CHAMPAGNER & SPARKLING WINE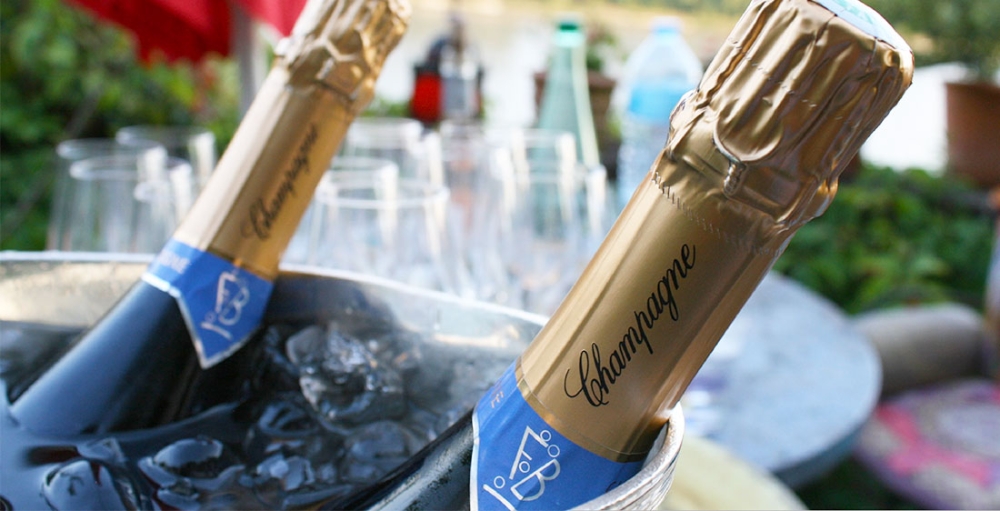 WHAT EXACTLY IS CHAMPAGNE? Strictly speaking, champagne is a sparkling wine that comes from the Champagne region of northeastern France. If it's a bubbly wine from another region, it's sparkling wine, not champagne. While many people use the term "champagne" generically for any sparkling wine, the French have maintained their legal right to call their wines champagne for over a century. The Treaty of Madrid, signed in 1891, established this rule, and the Treaty of Versailles reaffirmed it. The European Union helps protect this exclusivity now, although certain American producers can still generically use "champagne" on their labels if they were using the term before early 2006.
HOW IS CHAMPAGNE MADE?
Sparkling wines can be made in a variety of ways, but traditional champagne comes to life by a process called the methode Champenoise. Champagne starts its life like any normal wine. The grapes are harvested, pressed, and allowed to undergo a primary fermentation. The acidic results of this process are then blended and bottled with a bit of yeast and sugar so it can undergo a secondary fermentation in the bottle. (It's this secondary fermentation that gives champagne its bubbles.) This new yeast starts doing its work on the sugar, and then dies and becomes what's known as lees. The bottles are then stored horizontally so the wine can "age on lees" for 15 months or more. After this aging, winemakers turn the bottles upside down so the lees can settle to the bottom. Once the dead yeast has settled, producers open the bottles to remove the yeast, add a bit of sugar known as dosage to determine the sweetness of the champagne, and slip a cork onto the bottle.
WHAT'S SO SPECIAL ABOUT THE CHAMPAGNE REGION?
Several factors make the chardonnay, pinot noir, and pinot meunier grapes grown in the Champagne region particularly well suited for crafting delicious wines. The northern location makes it a bit cooler than France's other wine-growing regions, which gives the grapes the proper acidity for sparkling wine production. Moreover, the porous, chalky soil of the area -- the result of large earthquakes millions of years ago -- aids in drainage.
WHAT'S THE DIFFERENCE BETWEEN BRUT AND EXTRA BRUT?
You'll see these terms on champagne labels to describe how sweet the good stuff in the bottle is. As mentioned above, a bit of sugar known as dosage is added to the bottle right before it's corked, and these terms describe exactly how much sugar went in. Extra brut has less than six grams of sugar per liter added, while brut contains less than 15 grams of additional sugar per liter. Several other classifications exist, but drier champagnes are more common.
---
Show 1 to 16 (from a total of 16 new products)